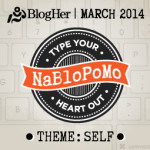 I've decided to give NaBloPoMo another shot this month. It may all end in tears (or, more likely, a lack of blog posts) but if you don't try then you'll never have a shot at doing it successfully, right?
The theme for March is 'Self'. Rather than writing about myself, I've decided to focus on topics relating to 'self' and online media. For example, how do we represent self in blogs, on YouTube and in other online communities? How is online media helping us to examine and express ourselves? And how do you write a killer About Me page?
There's a lot to consider, so bring it on!